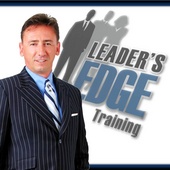 Education & Training
Chris Leader
Toronto, ON

—

Leader's Edge Training
Get to know Chris Leader
ABOUT LEADER'S EDGE TRAINING:
As one of North America's premier real estate and mortgage sales training companies, Leader's Edge Training has helped thousands of salespeople earn more money and have better balance in their lives. As Founder and Master Trainer, Chris Leader teaches others the secrets of lasting success. He'll help you master sales fundamentals, lead generation, prospecting, personal marketing, listing and pricing strategies, objection handling, business planning, time management, contact management systems, client presentations, goal setting and so much more.
ABOUT CHRIS LEADER:
Passionate, Funny, Humble, Entertaining... all of the traits you could possibly want in a trainer!
To call Chris Leader an entrepreneur is an understatement. By the age of 24, Chris was already a successful Realtor and Broker/Owner. Simultaneously, Chris was a partner in a Mortgage Brokerage and ran it successfully for a number of years. With this achievement under his belt, Chris became an HR/Recruitment Specialist for several large offices in Toronto. His success led him down the path to the realization of his true calling, training. Before the age of 35, Chris became a top trainer for a major international training company.
Chris' dream was to launch his own training company, and so Leader's Edge Training was born. Today, Chris is a highly sought-after speaker, trainer and industry consultant. His boundless energy, wit and business expertise have allowed him to train some of the industry's best professionals. Students rave about how they connect with Chris's down-to-earth style and they can trust what he teaches because he has truly walked a mile in their shoes.
ABOUT OUR COURSES: Leader's Edge Training for Real Estate Professionals Leader's Edge Training for Real Estate Professionals is a highly motivational course focused on increasing your production. The course is taught two formats: 1 day/week over 7 weeks from 10:00 a.m. until 3:00 p.m. 3 consecutive days from 9:00 a.m. until 5:00 p.m. This course is designed to propel your career to the next level and keep it there. The 7-week course includes an accountability component each week where we measure your productivity to help you optimize your performance. The course combines instructor-led training with an extensive course manual that you will use as a reference tool for years to come. You are also given a 5-week action plan to keep you on track after the course is finished to ensure you implement everything you learn during the course. Throughout the course we will use a combination of education and entertainment to keep you on the edge of your seat. You will be submerged in an exciting, interactive learning culture that will motivate and inspire you to become a top producer. By combining the power of a leadership mindset with proven systems and strategies, you will be fully prepared to meet the challenges of today's changing marketplace. You will learn to master these topics during the course: Fundamentals For Leading Salespeople: We help you create a solid foundation on which to grow your business. We discuss the characteristics needed to succeed in our industry: vision, courage, discipline, work ethic, persistence, skill, attitude, patience, planning and tracking. We stress the importance of "relationship" selling to guarantee longevity, and how you need to work from a position of abundance created through continuously prospecting for new business. We discuss the importance of goal setting and give you a blueprint for success. Lead Generation: Real Estate professionals must continually prospect for new business opportunities in order to be in control of their career. We teach you several methods to build strategic alliances with referral partners to increase your business. We teach you where to find new clients, how to approach them and what to say. We focus on building a referral based business so business comes to you, and we show you how to harness the power of technology and social networking to capture and convert more internet leads. But the technology of today does not render the fundamentals of yesterday obsolete, so we also teach you solid prospecting techniques to grow your business regardless of the market conditions. We discuss the importance of maintaining an up-to-date customer relationship management system to keep in touch with past clients to nurture repeat and referral business. You will master the 12 keys for successful prospecting, and we provide you with several proven prospecting dialogues to help increase your success. Marketing: Marketing should create perceived value in prospects' minds so they want to work with you over the competition. You will learn how to stand out from the competition by personalizing your marketing campaign based on your unique personality traits and strengths. We teach you how to develop target markets and niche markets to increase your opportunities. We discuss the "must haves" of marketing (business cards, postcards, letterhead, envelopes, ads, flyers, brochures and e-mail headers/signatures). We discuss the importance of branding and having a consistent look and feel to all marketing pieces. We talk in depth about making media work for you, including direct mail campaigns, press releases, websites, e-mail campaigns, advertising and television. Lastly, we discuss the marketing pitfalls that you must avoid. We provide you with a sample marketing plan to assist in planning your annual marketing campaigns for the greatest effectiveness and efficiency. List to Last: Industry leaders are always listing salespeople. We will teach you everything you need to know about the listing appointment process so you can demonstrate to clients what make you different than your competition. You will learn a standard process to follow for every listing appointment, starting with things you can do leading up to the appointment to be better prepared, steps you should follow during every appointment to clearly communicate your value to clients, and the importance of good client follow-up to ensure you deliver exceptional service. We discuss the importance of using open-ended questions to draw out a client's motivations and concerns so that each presentation can be tailored to fit that client's specific needs. The result: you end up with better listings that sell for more money and you have happier clients! Pricing Strategies: Most real estate professionals find pricing to be a challenge, especially when the market is changing. We explore pricing philosophies and several strategies to get to the right price. Most salespeople only know how to do CMAs, but we teach you how to price homes based on right price analysis, law of supply and demand, absorption rate analysis and price sensitive positioning. You will learn everything you need to know to convince sellers to list at the right price the first time to get their home sold quicker, for more money and with less inconvenience. We discuss how seller motivations affect price and how the seller can use incentives to attract buyers. Objection Handling: The master key to selling is the ability to understand the client's needs and ensure we meet those needs better than our competitors. We teach you the difference between client hesitations, objections and conditions and how to handle each to come up with the best resolution for the client. We discuss the 3 D's of objection handling: determination, dialogue and delivery. You will learn to master several objection handling techniques which will build your confidence when dealing with difficult issues. We also provide you with several proven dialogues that you can use to overcome just about every conceivable objection you will hear in the real estate industry. Business Planning: This section is worth the price of the entire course! Every business must have a solid business plan at its foundation. It is not about how much money you EARN in your business, but about much you money you KEEP in your wallet at the end of the day that counts, so we discuss tips to help you keep your hard-earned dollars. We stress the importance of setting realistic goals and how to determine what specific activities you must do every day to achieve your goals. We teach you how to create a budget to determine the yearly income you want/need to earn, and then how to create a straightforward business plan to turn your income goals into concrete daily activities. We provide a sample budget and business plan that you can follow to create your own plan. Time & Life: This segment is designed to give you a "check up from the neck up" so you can deal with what might be the biggest road block to your success - yourself. We discuss the value of time and how we need to live in the moment. We discuss the importance of creating balance in our lives and we give you 24 techniques to better manage your time. We discuss the importance of maintaining a positive attitude and several things you can do to overcome challenges and stay strong in your career and relationships. The Leader's Edge course covers everything you could possibly need to know to increase your business and become the top producer you want to be. We look forward to seeing you at our next course. If you would like more information, please phone our office at 866-607-7999 and our friendly staff will be happy to answer all of your questions.
Chris Leader's Blog Posts
Real Estate Sales and Marketing
–

over 8 years ago
Real Estate Sales and Marketing
–

over 8 years ago
Real Estate Sales and Marketing
–

over 8 years ago
Real Estate Sales and Marketing
–

over 8 years ago
Introducing a fresh new look for your Profile.
Click the 'Edit Profile' button below to enter 'Edit Mode' and continue the tour.