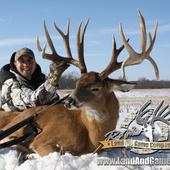 Real Estate Broker/Owner
Rod White
Mount Pleasant, IA

—

LandAndGame.com - Land And Home Realty, LLC.
An Olympic Gold Medalist in archery from the 1996 Atlanta Olympic Games, the majority of my career has been made as a professional bowhunter and wildlife habitat specialist. I now own LandAndGame.com
Get to know Rod White
At LandAndGame.com, we work with sellers to find real market value for their property based on comparable and up to date sales from other farms in their area. This provides a fair sale for both buyers and sellers and one in which a win-win situation is reached with each sale. With so many inexperienced and residential real estate agents out there listing properties at whatever sellers want them too, just to get a listing, LandAndGame.com is like a breath of fresh air. Browse any of our vast selection of hunting, agricultural, recreational, and homes with acreage, and you'll soon understand why so many buyers and sellers come together at LandAndGame.com. If we don't have it at LandAndGame.com, we'll find it with any number of our approved and cooperating brokers in Iowa, Missouri, and Illinois.

Rod White's personal experience is put to work for you as a buyer's agent and your representative in finding sound, profitable land investments in the Midwest. A landowner himself, Rod has owned recreational properties in Iowa and Wisconsin, implementing both habitat programs and quality management practices to maximize the properties income potential and resale value. Realizing ownership goals and how to attain them is not his only experience with Midwestern whitetail farms.

He has hunted here for more than nine years in varying states, collecting an impressive collection of nearly 30 whitetails ranging from 130" to 190". Aside from his personal achievements in the timber, he also has an impressive list of target archery records as well as national and international titles, including an Olympic Gold medal from the 1996 Olympics in Atlanta. Shortly after winning gold, he began his career as a professional bowhunter himself, and later pursued his passions as a professional whitetail guide. His personal performance in the timber with the harvest of an impressive list of his own record class deer, as well as the success of many of his clients, accelerated his career and it wasn't long before he launched his own outfitting businesses in Iowa, Illinois, and Minnesota. He now regularly appears on such outdoor TV shows as Gander Mountain's, We Live Outdoors and Gore-Tex Outdoor Adventures. You'll also see him on major outdoor television shooting events such as the ESPN Great Outdoor Games and the Buckmaster's Top Gun television events. As an outdoor writer and seminar speaker, Rod's intensity, and passion for mature whitetail deer has earned him the reputation as one of the nation's leading authorities on Midwestern whitetail deer and their habitats.


His words of advice to first time Iowa investors, "The important thing to remember about the Midwest when purchasing a farm strictly for hunting purposes is that, contrary to what others may say, there is not a Boone and Crockett whitetail on every farm, every other farm, or in every section. Certain farms lie in areas that produce more than the average number of trophy class animals while others simply are not likely to produce any trophy animals. These areas can even be present in the same county!"

Rod's knowledge of common hunting practices in varying areas can put you in prime territory and help you avoid over hunted or poorly managed grounds to substantially increase your odds of owning a piece of ground that truly has the ability to produce quality animals year in and year out. In addition, if your investment plans require finding ground to produce exceptional returns on your dollar from a farming basis, Rod can help you find the properties that specifically match that criteria as well. And, in rare instances, a real bargain can present itself on short notice. This could be a property that needs a little or a lot of care to produce both income and trophy class deer, that's why it's important to make sure you sign up for email notification list. Every property we list, and some we won't list ourselves will come through that email system. So don't forget to sign up!

If you're interested in Iowa ground, give Rod a call to place your search criteria in our database and sleep easy knowing your property is being hunted down, so to speak!
Rod White's Blog Posts
ActiveRain Community
–

over 8 years ago
ActiveRain Community
–

about 9 years ago
ActiveRain Community
–

over 9 years ago
ActiveRain Community
–

over 9 years ago
Certifications
At LandAndGame.com, we are more than a real estate company...much more! Our company and team members are focused on finding you the perfect property that meets your needs both as a recreational user and as a land investor. Beyond that, our passion is deeply rooted in the art of growing and holding mature bucks in a variety of environments. We work closely with all of our clients to produce the highest quality of wildlife possible on their specific tract. In many cases, this means the implementation of our trademarked, Advanced Habitat System™ (AHS™).
The Advanced Habitat System™ infuses all of the necessary components required to allow your property to reach it's maximum peformance level with advanced nutritional gains and a complete, comprehensive system of habitat components tailored to the species that is most important to you! To learn more about implementing an Advanced Habitat System™ on your property, call Rod White today at 319-217-0392 or visit our AHS™ Website coming soon!
In addition to offering full habitat services with your purchase, we also work with clients to perform individual specific projects such as...
Perennial and Annual Food Plots Timber Stand Improvement (TSI) Strategic Bedding Enhancements Native Grass Establishment Trail Establishment Pond and Waterhole Construction Stand Placement and Tower Blind Construction
as well as many other types of land improvement projects. Understanding specialized habitats from mature whitetail environments to waterfowl and a variety of upland game species is what seperates us from other companies who are focused on other goals such as tv production and land trading. We are the only true full service land sales and habitat management company in the Midwest focused on our clients property performance and their wildlife goals. So whether you are looking to buy your first piece of land, the ultimate sporting property, or simply enhance an existing property you already own, call the true land sales and habitat improvement specialists at www.LandAndGame.com!
Introducing a fresh new look for your Profile.
Click the 'Edit Profile' button below to enter 'Edit Mode' and continue the tour.