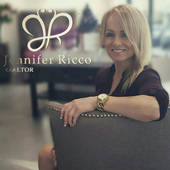 CAL BRE 01461940
Real Estate Agent
Jennifer Ricco
Santa Clarita, CA

—

JohnHart Real Estate
Your #1 trusted resource for real estate services in Santa Clarita. Looking to buy or sell have equity or need to short sale? We have the skills that are necessary to get the job done in todays market
Get to know Jennifer Ricco
Get To Know Jennifer

Jennifer is a residential real estate specialist at JohnHart, selling homes in the Santa Clarita Valley, LA, Ventura and Orange County since 2004.
Jennifer has established herself as a marketing expert mastering social media techniques, search engine optimization and online marketing to sell homes faster, netting top dollar her their clients.
She believe in paying it forward in our community and beyond, she's helped raise funds for various causes and fundraisers.
- Feed The Children Ricco Sells Homes collected donations to send a tractor trailer truck to the Oklahoma tornado victims.
- Keller Williams Red Day Host an ice cream social at the SCV Senior Center and did a clothing drive for the Single Mothers Outreach in Santa Clarita.

- The Jeff Laird Memorial Fundraiser Created a fundraiser to help a Santa Clarita family who had tragically lost their beloved father and husband in a car crash.
- Miss SCV Pageant A proud sponsors of the Miss SCV Scholarship Fund, an educational scholarship fund for young women to further their education.

Jennifer was voted LA Daily News Readers Favorite Realtor Choice for 2010, 2011, 2012 and 2013
Jennifer Ricco's Blog Posts
ActiveRain Community
–

over 5 years ago
Real Estate Market Trends
–

almost 6 years ago
Local News and Events
–

almost 6 years ago
Home Buying
–

about 6 years ago
Ricco Sells Homes in the Greater Los Angeles Area and Ventura County
The Ricco Sells Homes Team understands today's sophisticated home sellers deserve more then just a yard sign or advertising in an outdated Homes and Land publication to sell their home. We understand the latest cutting edge technology when it comes to selling a home. Take a look at our video, it shows just some of the tools we use to sell our clients homes for top dollar. #riccosellshomes #sellyourhome #realestatemarketing #topdollar #santaclarita #stevensonranch #valencia #newhall #saugus #canyoncountry #castaic #realestateagent #remaxofsantaclarita #santaclaritarealtors #LAandVenturaCounty
Testimonials for Jennifer Ricco
Brant, Gina, Kadyn and Shalyn

09/20/2011

September 20, 2011

To Whom It May Concern:

With the economic crisis that the majority of Americans find themselves in, via mounting debt and housing depreciation, it is critical that one finds competent guidance with sound measures for domestic relief. Thankfully, I found this professional assistance with Jennifer and Gary Ricco.

Whether it be by way of fortunate coincidence or what I continue to describe to my beloved wife as divine intervention, Jennifer and Gary came into my like and their concerned application and tenacious spirit truly to this day provide their clients with comforting security. Their concern for detail and professional articulation are traits - I assure you - revered by their associates in the highly competitive field of real estate.

My first home depreciated by over $200,000 and as a husband, father, and local high school teacher, I was lost. With Jennifer and Gary Ricco, I was found; my bleak situation was countered by these two professionals who remain steadfast in their admired efforts for resolve. Had it not have been for the Ricco's the smiles I witness daily on my wife's and daughters' spirited faces may not exist - for this, I will remain forever indebted to them.

Jennifer and Gary Ricco sold my home within six months; their skilled diligence offers me now a second chance at being a home owner. Words will never suffice in acknowledging my gratitude for their determination. It really was invaluable the day my wife and I decided to empower Jennifer and Gary Ricco to represent our family.

"Jennifer and Gary Ricco are not just Realtors, they remain dear friends - Thank you!"

Sincerely,

Brant, Gina, Kadyn and Shalyn

Castaic, Ca


To Whom It May Concern:

It's a pleasure to write a letter of recommendation for two people who have exemplified the highest level of professional integrity and dedication in helping our family sell our home. Gary and Jennifer Ricco were faced with a difficult task, in a difficult market with many difficult obstacles. However, despite all of these challenges, they accomplished their goal in selling our home for the highest possible price in a relatively short period of time.

In the midst of the recent recession, my employer required that I relocate from LA to their Denver office. The prospect of selling a home with a value significantly below the mortgage seemed like mission impossible. However immediately after meeting with Gary and Jennifer, we were put at ease due to their experience with similar situations, and the resulting positive outcomes. They walked us through the process, assisted with compiling all of the necessary documentation and spearheaded the marketing, financial resolution and eventual closing with little effect on us personally.

They're a real homeowner advocate with a passion for their business and their clients.You can expect constant communication, insightful updates and a team that will operate with the highest standard of care. I strongly recommend Gary and Jennifer Ricco to anyone seeking professional real estate services.

Sincerely,

Andrew & Kara

Canyon Country, Ca


Jeff and Laurie S.

11/15/2010

11-15-10

If you're reading this, then you're in the same position my wife and I were in. We were scared about our worsening financial situation, embarrassed, and unsure of our future. So by the time we made the call to the Ricco's, we were desperate. We needed help, answers to a lot of questions, and were hoping our meeting with them wasn't going to be some contrived shakedown by a couple sleazy realtors. That didn't happen. They were direct, patient with us, and put us at ease while they answered what we believed, were very difficult questions. No, no shake down, because that's not Gary and Jennifer, not by a long shot.

Let me say, you did well to find them. With so many homes and families in distress, there are naturally a lot of realtors you could have picked. It isn't easy, and some how, some way, you chose well. You'll find both Gary and Jennifer to have a unique passion about their work. That passion and energy never waned during our time with them. Our situation was very complicated, and it took a year before we finally saw closure, and during that time, they were always there. They often had the answers to our questions before we asked, and when the bank(s) were being difficult, they were able to diagnose for us in layman's terms, what it was the bank's were doing. They fought hard for us. At times, we lost hope. But it was their passion, coupled with their knowledge and experience in the incredibly complex foreclosure market, which impressed us the most. During the toughest times, it was these traits that put both my wife and I at ease.

What we'd really like to pass along to you is this...you picked the best. What you're facing is no joke. It's ugly, and isn't going to go away anytime soon. You should be anxious, and scared about what's ahead....we were. But now, looking back at it, we are very glad we chose the Ricco's. Because of their work and efforts, they allowed us to keep some dignity and piece of mind during our crisis. It is with that we proudly recommend them to you. If you decide to take them on, enjoy the ride.

Jeff and Laurie S.

Santa Clarita, Ca


Fred and Audria

06/01/2010

To Whom It May Concern:

It is with great pleasure that my husband and I write this letter of recommendation for real estate agents, Gary Ricco and Jennifer Ricco of Keller-Williams Real Estate. We met Gary and Jennifer for the purchase of a house and were so impressed by their professionalism, we entrusted them to act as buyer/seller agents and to list for sale our home also. From the beginning we experienced top-notch realty expertise, from the numerous two sets of real estate documents, the virtual tour photos, and the weekly updates online that showed statistics as to how many times our house had been visited online. We were very pleased with the manner in which our home was listed, presented and shown to prospective buyers. Gary and Jennifer sold our home and assisted us in purchasing our new home. Both escrows went smoothly and we therefore highly recommend Gary and Jennifer Ricco for any real estate need.

We met them on a business level and we have developed a friendship that will continue for many years.

Sincerely,

Fred and Audria

Stevenson Ranch, Ca


To Whom It May Concern:

I am writing this letter to express my deep gratitude and appreciation for Gary and Jennifer Ricco. My wife and I were represented by Gary and Jennifer in the short sale of our home, and we can honestly say that they truly are the most amazing real estate agents we have ever worked with.

From the very first moment we met with Gary and Jennifer, we could tell that they were honest, compassionate, and genuine. Gary and Jennifer truly showed an interest in their work and a desire to help people in need. When we explained our situation and need for help, they listened. After gaining a solid understanding of our situation, Gary and Jennifer provided us with options to solve our problem and a commitment to executing the plan no matter how long it took or how difficult it could become.

A short sale is not an easy one, and Gary and Jennifer demonstrated a strong understanding of the entire process and an amazing ability to make it work. From start to finish, Gary and Jennifer knew exactly what needed to be done. They were always one step ahead of the game and had a solid reaction plan based on every possible outcome for any given situation. We were nervous about trying to tackle a short sale with our home, but Gary and Jennifer were always there to explain everything and make us feel comfortable. They truly are experts in distressed property transactions.

Gary and Jennifer have an answer for everything; I truly believe they can accomplish the impossible. I would highly recommend Gary and Jennifer to anyone who needs to buy or sell a home no matter how dire or complicated the situation may be. If anyone can help, Gary and Jennifer can. Not only will they get the job done, but they will be there for you every step of the way.

Gary and Jennifer truly are amazing people. In a world where it seems nobody can be trusted, you can count on Gary and Jennifer. They will help you through any real estate transaction, and be your friend too. When you work with Gary and Jennifer, not only do you benefit from their expertise and professionalism, but you also benefit from the entire professional community that they bring with them. Gary and Jennifer Ricco provide a total package solution to a complex problem.



Sincerely,

Jason H.

Valencia, Ca
- See more at: http://activerain.com/profile/jricco/edit?start_tour=true#sthash.QvVlSOCR.dpuf

Mon Jun 1, 2009

"Over the last 20 years, I have experienced the purchase and sell of several homes, and have dealt with a variety of Realtors. By far, my experience with Gary and Jennifer Ricco has been the most satisfying of all. From the moment we met Gary and Jennifer, I was extremely impressed with their professionalism. The sale of this house was a very difficult decision for my family and me, due to the tragic circumstances surrounding this resolution. When I called Jennifer to arrange the first meeting, she was empathetic, showed great compassion for my situation, and was strongly equipped with all sorts of relevant information. Through the entire process they explained every procedure, had great strategy in place, and went above and beyond to promote the sale of the house. Additionally, for hours and days at a time, Gary relentlessly negotiated with the mortgage company in order to get the lengthy and tedious process sorted out. Fortunately and thanks to all their great efforts the house was sold! My family and I will forever be grateful for their hard work and determination. Because of this wonderful support; we can now look forward to owning another home in the not so distant future."


Jeanette M.

Canyon Country, Ca


- See more at: http://activerain.com/profile/jricco/edit?start_tour=true#sthash.QvVlSOCR.dpuf

Fri Apr 17, 2009

"Caring, diligent, aggressive, thoughtful are just some of the character traits that describe the dynamic duo of Jennifer & Gary Ricco. The short sale process was a long process that had its share of frustration and angst; however, Jennifer & Gary never gave an inch to the lender, worked constantly with the lender and other parties to ensure we received the best possible terms for the sale of our property. In addition, they walked us through the process, kept us up to date with the latest information, and remained positive throughout the entire process. Jennifer & Gary worked out a great deal for us that allowed us to sell our property as well move on with our life at a new residence that Jennifer & Gary were instrumental in helping us to secure. We could not have closed the sale of our home with such agreeable terms and moved on successfully to our new residence without the tremendous efforts & skills of both Jennifer & Gary. We sincerely thank you and will recommend you both to our friends, family & peers."


Daren F.

Stevenson Ranch, Ca
- See more at: http://activerain.com/profile/jricco/edit?start_tour=true#sthash.QvVlSOCR.dpuf
Introducing a fresh new look for your Profile.
Click the 'Edit Profile' button below to enter 'Edit Mode' and continue the tour.