For Sale By Owner Flat Fee MLS Listing For $395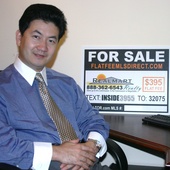 Real Estate Agent
For Sale By Owner Flat Fee MLS Listing For $395
Save 3-6% Commission
Parsippany, NJ

—

RealmartRealty.com
1110 HAMILTON BLVD
SUITE 2A
SOUTH PLAINFIELD , NJ 07080
---
New Jersey's Largest Flat Fee Listing Office. Over 120 MM of property sold in 2010. Sellers pay a flat fee to list on local MLS & Realtor.com. Sellers save up to 6% comm. Buyers earn up to 2% rebate.
Get to know For Sale By Owner Flat Fee MLS Listing For $395
Flat Fee MLS and For Sale By Owner FAQs
1. What is the Multiple Listing Service?
The Multiple Listing Service (MLS) is the key to Home-Sales Success. The MLS lists the vast majority of real estate listings which are listed "for sale" by real estate brokers and their agents. All types of real estate property is listed in the real estate multiple listing service; houses, townhomes, condominiums, commercial property, lots, acreage and even rental properties. Statistics show that homes listed on the MLS sell faster. "The MLS" is the secret to success of real estate sales, directly responsible for about 4 out of 5 sales nationwide. About 85% of home buyers use a REALTOR® to help them locate a property. When a potential buyer contacts a Real Estate Agent regarding a home purchase, the Agent will search the MLS for homes matching the buyers' desires, wants and needs.
2. Is there a "MLS" which may be used by owners selling themselves, without a REALTOR®?
NO. There is no FSBO MLS System. The general public is not allowed to use the REALTORS® Multiple Listing Service. Only a State Licensed REALTOR® Member may access and use their local MLS and list a property for sale, or find homes for buyers. This is the same MLS used by REALTORS® in your area, the same as the one you will be listed in, which is accessed by local Agents in your area.
3. Is the MLS the best way to sell my home?
Yes, the vast majority of homes are sold through the MLS due to the large network of REALTORS® working with home buyers. The National Association of REALTORS® (NAR) reports homes listed by REALTORS® result in a higher net price to the Sellers compared to "FSBO" home sale transactions.
4. Will Realtors Show and Sell my home even though I paid for a Flat Fee Listing?
Yes. Your MLS Flat Fee Listing will look exactly the same as any other listing. There is no way to tell how much you paid to get on the MLS. Regardless of whom you listed with or what you paid, your listing will look no different from any other listing in form and style. The listing commission is not shown. The listing brokers name appears on the MLS. Our flat fee listing method gets your property on the same MLS used by your local REALTORS®. Your listing will appear the same as all other mls property listings.
5. Will Realtors show and sell my home if I am not listed with their company?
Yes. The main purpose of MLS is for REALTORS to sell each other's listings.
6. How important is that the listing REALTORS's office be in my neighborhood for my home to sell?
It does not matter. It's merely an often-used false marketing method to make you believe it makes a difference so that you end-up listing with them. Comparatively few potential buyers reside in your neighborhood. Most buyers come from another part of town, another city, or out-of-state. Even if a prospective buyer happens to live nearby, why would location of the listing broker make any difference at all? Keep in mind, a buyer who comes via The MLS in all likelihood already has a REALTOR® who is working with them. A buyer rarely hires the Listing Agent. If the Buyers' Agent needs to contact the Listing Agent they normally use the phone or fax to submit a purchase contract offer and in-person contact is never really needed. The listing broker could be located in another city or even out-of-state, it really makes no difference.
7. Who will realtors call for showings?
You, the Seller. The most common way showings are done, is the listing broker indicates showing instructions on the multiple listing service. It will say "Call Owner direct to arrange for a showing" (giving your name and contact phone number) REALTORS® customarily call Owner before showing the home.
8. How long should I expect to be on the market?
Your home should sell quickly if priced right, in a good location and shows well. The MLS & REALTOR.com® will draw maximum attention to your home.
9. How long will my property be listed on the MLS for the flat fee?
The MLS flat fee listing is good for 6 months. Most homes are sold within a couple of months of listing or sooner.
10. Can I cancel my Flat Fee Listing at anytime?
Yes, contact the office for a withdrawal form, and fill it out and sign it. Once we receive it your listing will be unconditionally withdrawn. Please be aware of any agent soliciting your listing while you are still listed with us, it is strictly prohibited by the Real Estate Commission. If any agent has attempted to solicit your listing, you should get the agent's contact information and notify us ASAP. Please keep in mind that we DO have a limited 100% money back guarantee. Even if you want to cancel and list with a full price broker, you should ask us first to see if we can work out an referral agreement to get your money back. It does not cost you any extra, and you will get your flat fee listing expense refunded at closing.
10. Do you have a refund policy?
YES, If you wish to cancel within 30 days after your order is placed, but before your listing is entered, there is a $25 cancellation fee. This fee covers what we are charged by the credit card company. We are charged when a client places an order, and we are charged again when we have to enter a refund.
If you wish to cancel more than 30 days after your order is placed, but before the listing is entered, a refund cannot be issued. However, your order will remain valid and you may enter your listing at ANY TIME in the future.
After your listing is entered, we unfortunately CANNOT issue a refund. The service you paid for is considered provided once your listing is active in the MLS. However, if you wish to cancel your listing, that's not a problem and you will not be charged any additional fee.
There is a refund of $100 for Realtor Lockboxes after they have been returned , in good working condition. Yard Signs are free; the $15 charge is for packaging and shipping.
Any time an order is placed, you should have your listing forms and questionnaire about the details of your property by email the business day after you placed your order, if not sooner. If you do not receive the listing forms and questionnaire in that timeframe, please call our office.
We do our best to provide outstanding customer service to make our clients happy. If there is ever any problem, or if you feel we did not live up to your expectations, please call our office. We are always happy to assist you.
11. Limited Money-back Guarantee after my home is listed, if I cancel my listing to go with another REALTOR?
If you are not completely satisfied you can qualify for a 100% money-back guarantee under certain conditions. This is based on our referring your listing to a new real estate broker, and who is acceptable to both of us. In the event you want to cancel (for any reason), and wish to list with a more traditional broker (of course, prior to getting a sales contract), we agree to refund the money you paid us by rebating the money payable at closing as long as all parties agree to a standard REALTOR® Referral Agreement. The referral agreement will not cost you any extra money in commission.
12. Is there really a benefit to listing with a traditional high-commission broker?
Not really, keep in mind that all agencies work with the same MLS's. Your listing will end up in the same MLS it was on. Except this time you will have a Traditional Real Estate Agency charging you a higher commission. We all rely on buyers' agents to sell the homes. Also note: if you sell it yourself while listed with us you do not pay us a commission, on the other hand, if you find the buyer while listed with a traditional broker, in all likelyhood you will still pay a full commission.
13. What is the difference between a "Selling Agent" and a "Listing Agent"?
A Selling Agent is the Real Estate agency who actually sells the property. They are sometimes called Buyer's Agents. The Listing Agent is the Real Estate agency who lists your home for sale in the MLS.
14. How much commission do I have to pay to the Buyer's Agent?
The commission the Seller pays the Buyer's Agent is totally up to the Seller. Real Estate commission fees are not FIXED, fees are negotiable by LAW.
15. If an agent from Realmart Realty sells my home will I still owe a commission?
Yes, but you still pay 50% less commission, typically about 2-3% If the Listing Broker has a buyer for your home, he/she will also become the selling agent and be entitled to the selling side of the commission. Regardless of which REALTOR® sells your property, you still pay no listing commission and only pay 2-3% to the broker who was the procuring cause of the sale.
16. If I find my own buyer, will I still have to pay a selling commission?
No. If you find a buyer for your home with no Agent being the procuring source, there is no commission to pay.
17. Do I need a lockbox while my house is listed on MLS?
Lock boxes are highly recommended, especially the digital realtor Lock box which all local realtors have an e-key for access. A lockbox is a metal container for your house key(s) and is normally hung on the front door knob or gate. The MLS Listing will advise Realtors if they can not reach you by phone, they may use the key lockbox for showings. It provides access to Agents when the owner is away, thus assuring full exposure to prospective buyers. Without a lockbox, Agents representing buyers will have to set appointments to meet you at the house to view the home. If you do not have a lockbox, you may miss out on some potential buyers who do not have time to wait. Your Listing Agent will indicate your showing instructions on the MLS with a contact phone number to call for showings. Showings are almost always done on an appointment only basis (assuming key lockboxes are not used).
18. Do you offer free forms and contracts if I sell my home myself?
Yes, we do offer free forms. We are adding more forms for your convenience. When you list your home with us, we will email you all the forms needed if you sell by owner. If your home sells thru the MLS, the buyer's agent will prepare the purchase contract.
19. Can I make changes to my MLS listing?
Yes you can make changes, just contact the listing agent (usually by email at changes@realmartrealty.com).
20. What Internet sites will my listing appear on?
Depending on your area, your listing may appear on many different internet sites. Plus licensed REALTORS® can display all of the MLS listings directly on their own private website. However, it is really impossible to predict exactly how many websites your listing will be on. Aside from the private websites owned by REALTORS®, your listing may also appear on major public internet sites such as REALTOR.com®, Trulia.com, Zillow.com, Google Maps, MSNhomes.com, Homes.com, Homestore.com, Homeadvisor.com Yahoo.com and others.
21. Will my contact information appear on Realtor.com® & other public websites?
No. REALTOR.com® is NOT the MLS. REALTOR.com's main benefit is for home-buyers to contact a REALTOR® for more information and showings. It is not for home-buyers to contact you as a FSBO (which is a common misconception). REALTOR.com® has a rule that seller's personal information is not allowed to appear (but it does go on The-MLS - please don't get them confused). Contact information (Seller's Name, Phone Number and Address) appears on the Multiple Listing Service for Realtor's to view and to contact sellers for showings, etc. We do have an 800# posted on Realtor.com, so when people call that number, they will be prompted to enter MLS and get your number. We also forward all email inquiries directly to you to maximize the chance to save all 6% of commission.
22. Can I ONLY get my House listed on REALTOR.com®?
No. You have to get listed into the MLS before your listing can appear on REALTOR.com®
23. How can I get my contract reviewed?
The Listing Agent is the most knowledgeable and qualified person to review the initial contract for you. If you need us to help with negotiations, review contracts, etc., upgrade your listing to Ultimate or 1% Professional Service. We will help you all the way from negotiation till closing. After the offer is accepted, we encourage using legal representation, even though it is not mandated.
24. Is REALTOR.COM and THE-MLS SYSTEM THE SAME?
No, they are separate and distinct services with different websites and usage. Realtor.com is run by The National Association of Realtors® and picks up all the Nationwide MLS Listings from the hundreds of Multiple Listing Services around the Nation and puts the property information in their website.
25. Who uses Realtor.com? Do Realtors access it?
Anyone can access and use it but NO, it's rarely used by Real Estate Agents. It's designed for and mostly used by the public who want to search for appropriate properties throughout the nation.
For Sale By Owner Flat Fee MLS Listing For $395's Blog Posts
Home Selling
–

about 8 years ago
Home Selling
–

about 8 years ago
Home Selling
–

about 8 years ago
Home Selling
–

about 8 years ago
Certifications
Home Buyers Rebate FAQs
1. How to Get Your 2% Rebate?
In order to get a cash back rebate from Realmart Realty, a buyer rebate agreement must be signed. You can provide us with the type of home and area criteria, we can setup home alerts in the MLS system. All MLS listed properties are available for public viewing on various MLS websites as well as Realtor.com. Not only can you be completely self-efficient in your search by utilizing the tools on the internet, but you have a better idea of what you want than the typical agent selecting properties for you, this will save time. Once a property is chosen we write and present the offer, handle all the negotiations, arrange for attorney review, schedule inspections, help on mortgage application, appraisal, title search, etc all paperwork thru the day of closing. An agent representing a buyer normally gets 3% of the purchase price. We give you 2%, and we keep 1%.
2. Can I Get Rebate with New Homes Builders?
Yes. Getting your 2% rebate when buying a new home is the easiest of all. All the major builders welcome agents, and there are never any discount if buyers purchase directly from builders, so getting the rebate makes perfect sense.
3. Is Rebate Always 2%?
Our personal service fee is always a minimum 1% of the transaction or $3000 whichever is higher. If there is 3% paid to the buyer's agent, your rebate will be 2%, if the commission is 2.5% your rebate would be 1.5%. The terms of the rebate are spelled out in our Buyer Rebate Agreement. The maximum of your cash rebate is 2%.
4. Is the Rebate Taxable?
The rebate is a large sum of money. In August 2010, we closed a home at $860,000 and gave the buyer $16,500 rebate. If the rebate is taxable, that reduces the benefit significantly. Please ask your accountant for your final answer. However, we did our own research. Please read this blog on IRS ruling for real estate buyer rebates.
Reator Blog: Is Buyer Rebate Taxable?
"...A payment or credit at closing from [E-Brokers] represents an adjustment to the purchase price of the home", the IRS ruled, "and generally is not includible in a purchaser's gross income." The IRS cited its own history of letting car-buyers keep rebates, and of providing relief to home-buyers. March 2007, Blog By Redfin
5. How to search for & find your perfect home?
Search for properties online using Realtor.com. Custom property search allows you to save the results of your searches and pick up where you left off, simply by logging in. You can also program it to send you automatic email alerts for new listings that match your criteria. We will also set up automatic alerts depending on your home criteria on the MLS site(s). You will review and only select the ones of interest, this will save time for you and us.
6. Can I lose the rebate?
Yes, we will not be able to represent you until you have signed a Buyer Rebate Agreement (you may cancel this agreement anytime). The Buyer Rebate Agreement will protect and guarantee the rebate at closing and our services during the entire transaction. Once you sign a Buyer Rebate Agreement with us, you must disclose, let other parties know you are being represented. If you are asked if you have an agent, the most appropriate response is "YES, I/ we have an agent at this time". Never mis-represent yourself to a realtor and/or homeowner or trick him/her into showing you the property, then switch agencies, it's unethical. We will not be able to represent you if that occurs and you will lose out on the rebate.
After you sign the agreement, we will represent you as your buyers' agent, We will provide you with business cards, and you can use them to show agents and/or give them out at public open houses to inform other parties you're being represented. If when driving thru neighborhoods you see a home of interest, call us for availability. Only if we are not available and if the home owner(s) are outside, introduce yourself to them and provide them with our business card, ask them to give it to their agent, if any, so an appointment can be made. Always ask them when is the next open house scheduled. You do NOT need to tell listing agent or seller that you are getting a Rebate, but you must disclose you are represented. We strongly advise you not to knock on peoples doors. We also advise that you sign in your name with Realmart contact information at any open houses, and leave our business card to the showing agent.
7. Are Open Houses the Best Opportunity To Earn the 2% Rebate?
YES, open houses are your best opportunity since listing agent can not claim you as their client. Sometimes, open houses are hosted by other agents in the same office. When you are asked to sign any paper or sign in sheet, read carefully before you sign. Always sign in your name with Realmart Realty contact information. Be sure to clarify to the agent that you are working with an agent already and present them with our business cards. Soliciting clients from other agents is strictly prohibited, so if someone tried to represent you after you told him/her that you are already represented, please notify us.
8. If we deal directly with the listing agent, wouldn't they be willing to give us 2%? Or wouldn't the seller get a discount if we dealt with the listing agent or talked to the seller directly?
The buyer's agent's share of the commission is usually half of the total 6% commission. If you buy a house directly through the listing agent, all of that 3% will go into them, along with the other 3% they are probably getting for listing the property (total of 6%). Even if you deal directly with the seller, the standard 6% listing contract states the listing agent still gets the full commission. No discounts for the seller finding the buyer, even if the buyer is his brother and the agent did absolutely nothing other than sign the listing agreement. The standard 6% Exclusive Right to Sell Listing Agreement is 100% biased toward the realtors. The other factor is that almost all the big brokers don't allow their agents to do the kind of discounts. And even if they were allowed, it still wouldn't work because after the agent split the 3% with their broker, there wouldn't even be enough left to give you 2% anyway. You probably don't know that most agents must share 50% of their commission with their broker at the big name companies. Even if they agreed to work for free, they won't be able to give you 2% rebate.
Another important factor, do NOT ask listing agent to provide you with a rebate, it compromises your negotiation when the sellers know you have a rebate. Let us get your the best price first, only after contract is signed, shall you disclose your cash rebate to all parties.
9. What if there's just no way for me to get inside to see a particular house, I must have Realmart Agent to show me the home, Can I still get a cash rebate?
YES! There is always a way to see the home, as long as it is available. If the listing agent is not having any open houses, we will assign you a Realmart agent to show you the home by appointment. You will drive by homes of interest to make sure that the exterior of the home is appealing to you. When you are ready to view the interior of a home, contact your assigned Realmart agent and he/she will arrange the appointment. Operating this way eliminates time wasted by our agents showing homes that are undesirable from the outside. Because you are helping us work more efficiently, we can afford to reward your a portion of our commission in the form of a rebate at closing. The rebate to our Buyer Client varies depending on the number of homes physically visited by our agents (see schedule below). The maximum rebate is 50% of our commission or 1.5% of sales price (whichever is lower).
# Homes Visited With Realmart Agent: Max % of our Commission we will rebate to our buyer: 3 50% 4 45% 5 40% 6 35% 7 30% 8 25% 9 20% 10 15% 11+ 10% or $500 which ever is lower
*Please NOTE: This program is not intended to rush buyers into making a quick decision. It is not designed to punish buyers that view more homes. It is designed to reward the buyers that take the time to do research prior to setting up showing appointments. Rebates can be impacted by lender guidelines. Please discuss the rebate with your mortgage professional to see if there are any restrictions.
Introducing a fresh new look for your Profile.
Click the 'Edit Profile' button below to enter 'Edit Mode' and continue the tour.