Esperanza Butler® 818 926 5425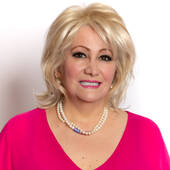 CalBRE-01797405
Real Estate Agent
Esperanza Butler® 818 926 5425
Homes For Sale in West Hills, Ca (818) 926-5425
West Hills, CA

—

Century 21 Peak
20812 Ventura Blvd #101
Woodland Hills , Ca 91364
---
Working with the best pays off. Save money! I am an e-PRO Internet Professional who can help you take advantage of Internet innovations and networking. Resulting in considerable time and money savings
Get to know Esperanza Butler® 818 926 5425
          Personalized Service Is What It's All About!
-Serving the West Hills Community , Woodland Hills, Winnetka, Canoga Park, Northridge, Chatsworth, Granada Hills and in general the San Fernando Valley
                                   My Objectives
..Listen carefully so I understand your objectives
..Explain how I will work for you
..Explain the home search and purchase process...My responsibility,, your responsibility
..Help you find the right loan and the right lender for your personal situation
..Search for a home which meets your needs and objectives
..Before making an offer I will provide you with a CMA-Comparative Market Analysis.
..This information will help you in evaluating the property before submitting your offer.
..I will be glad to provide you my Buyers guide or Sellers guide
                  (This will be provided depending on which hat you are wearing) Buyer or Seller
As your buyer's agent I'll not only negotiate on your behalf, I'll keep your private information confidential. And that is important. When the seller's agent knows how much money you can spend, why you're moving, details about your life that would indicate an urgency to buy, or the fact that you've fallen head over heels in love with the house, your negotiating position is destroyed.
And in case you're wondering, there's no additional cost to having a buyer's agent on your side. Both the listing agent and the buyer's agent are paid from the transaction. So the cost to you is the same whether or not you have representation.
If you're ready to begin your home search, get in touch today!
You can call me at (818) 926-5425 or email me at Esperanza@EsperanzaButler.com
Then we'll set a time to get together and begin narrowing the search for your dream home.
The sooner we start, the sooner I'll be handing you the keys to your new home.
Also I look forward to working closely with you to ensure that your home buying
or selling experience is not only successful but also enjoyable!! 
                                    Please check these sites For Sellers & Buyers
Are You Late On Your House Payments?
Find Out What Your Home is Worth
For Sale By Owner Free Website
Free MLS Listings See every Home currently for sale
                                    Neighborhood Boundary Maps
West Hills, Woodland Hills Calabasas Hidden Hills Canoga Winnetka Tarzana Sherman Oaks Studio City Northridge Chatsworth Lake Balboa Grandada Hills Encino
 ";Oh, by the way, if you know of someone who may need my Real Estate services , please call me with their name and number.
will be happy to help them!"
Esperanza Butler® 818 926 5425's Blog Posts
|
Just for Fun
–

about 17 hours ago
Real Estate Market Trends
–

about 2 hours ago
Local News and Events
–

11 months ago
Home Buying
–

4 months ago
Real Estate Market Trends
–

12 months ago
Home Improvement
–

4 months ago
Certifications
   Choose a REALTOR® that is e-PRO® Certified
The Internet has added a new dimension to the real estate world. Now you can be assured that the REALTOR® you choose will have the knowledge and skills to put the power of the Internet behind your real estate transaction.
All REALTOR e-PRO® Internet Professionals are REALTORS® who completed a rigorous certification program endorsed by the prestigious NATIONAL ASSOCIATION OF REALTORS® (NAR).
Real estate agents and brokers who have earned REALTOR e-PRO® Certification are Internet Professionals who have completed extensive training using the Web. REALTOR e-PRO® Certification means the real estate professional is prepared to employ the latest techniques and services for your benefit, just like you've grown to expect from a professional.
Life can be a little easier.
Save time and irritation. Work with a REALTOR e-PRO® Certified real estate professional who provides both buyers and sellers with high quality, timely information using the resources of the Internet.
REALTOR e-PRO® Internet Professionals maximize your ability to leverage the enormous power of the Internet when you are buying and selling property.
Working with the best pays off.
Save money. REALTOR e-PRO® Internet Professionals can help you take advantage of the latest Internet innovations resulting in considerable savings and speed whether you are a buyer or a seller of property.
Testimonials for Esperanza Butler® 818 926 5425
Wanlop and Heather

03/08/2021

To Whom It May Concern:
My wife, Heather, and I would like to recommend Esperanza Butler to anyone who is
Looking for a hardworking and helpful realtor in the San Fernando Valley area.
She made our home buying experience in late June 2013 a successful and pleasant one
Despite being the seller's agent.

We would recommend her as an agent to anyone who is looking to list or buy properties
In the San Fernando Valley area.

Sincerely,
Wanlop Noiwangmuang and Heather Tsai.

The Navarro Family

03/08/2021


"My husband and I found Esperanza to be the best Realtor we have ever dealt with. As first time home buyers we had a very complicated situation that was made much easier by Esperanza and her team. She was always prompt in responding to us and seemed to be one step ahead because she had done this many times before....! Her inclusive helpfulness was truly Heaven Sent!"-  
Navarro Family, Canoga Park


Bert Gleicher
Homeowner and Real Estate Developer


To Whom It May Concern;


Esperanza Butler recently represented me in the sale of a home in West Hills. She had told me that she would vigorously market the property in the various available media. She told me she would hold open houses on Saturdays and Sundays, and that she would show the house anytime any prospective buyer wanted to see it. She told me she would check on the property even when there were no showings, just to make sure everything was okay and that the house was secure. She told me she would loyally represent, and council me with buyers and their agents. She told me she would enthusiastically show the house and its features to anyone who took the time to come see the house. She told me she would educate herself as to the features and amenities of the house so that potential buyers could see the house in its most positive light.

I truly never thought she would actually live up to all these promises. But one by one she proved me wrong. She created a website for the property complete with video of the whole house. She designed and had made a very attractive full color flyer for interested people to take with them. The property was advertised in multiple media sources and received the kind of exposure any home seller would appreciate. She was totally knowledgeable about the latest technical advances in the field of advertising real estate. In this area, she far exceeded even her own description of what she would do for me.

Esperanza contacted me nearly everyday to let me know what she was doing to try to get the house sold. She tirelessly tried to come up with new ideas for how to best market the house. She drove by the house every few days just to make sure everything was okay. That was an "above and beyond" thoughtful thing to do. I felt that the property was being watched over as I was personally unable to check on the unoccupied property.

I could go on and on professing my satisfaction with the job Esperanza did for me, but suffice it to say that I would strongly recommend her to anyone looking to hire a real estate agent to represent him or her in the sale or purchase of a property. I am looking forward to doing future business with Esperanza.

Bert Gleicher
Homeowner and Real Estate Developer




Hola.
A quien corresponda

Por medio de esta carta me gustaria escribir acerca de mi experiencia comprando mi primer propiedad.

Hace casi 3 aňos conoci a Esperanza en mi trabajo e hicimos amistad en esta fecha mi jefe estaba buscando una propiedad, se lo comente a ella y se comunico despues con mi jefe, empezaron entonces a buscar y unos meses despues ya tenia su propio hogar.

Fue entonces que me sugirio comprar una propiedadad para mi, al principio me parecio que era como un sueno imposible pero Esperanza siempre me animaba a que lo podria lograr, gracias a que tuvo paciencia y el tiempo para llevarme a ver cada una de las propiedades que estaban en venta. No solo esto sino que tambien siempre estuvo en buena disposicion de verificar en que tipo de area estaban las propiedades.

Gracias a que siempre nos ha seguido mandando la informacion de las propiedades que van saliendo en venta, hoy yo ya tengo mi propio hogar tambien.

Hemos mantenido contacto con Esperanza, porque aparte de que nos ayudo a encontrar nuestras propiedades es una persona honesta y trabajadora, siempre tiene una manera de motivarte a que puedes lograr tus suenos. Es super luchona y gracias a eso hoy ya estamos pensando en comprar una tercera propiedad.

Muchisimas gracias Esperanza.
Que Dios te bendiga siempre.

Kenia Diaz (Canoga Park, Ca.)


Carol Serrano & Walter Somaduroff

03/01/2021

Esperanza,
I am writing to thank you for all your hard work and diligence on behalf of my father Walter Somaduroff.
We found your knowledge and tenacity very refreshing. This wasn't an easy sale (short Sale) and you helped us all the way through.
Thank you for all your efforts..
I would be happy to Refer you!
Sincerely,
Carol Serrano & Walter Somaduroff

Introducing a fresh new look for your Profile.
Click the 'Edit Profile' button below to enter 'Edit Mode' and continue the tour.