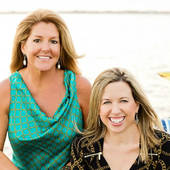 Real Estate Agent
Coastal Estate Team
Bridget Sentz & Carolyn Smith
Melbourne, FL

—

RE/MAX Elite

RE/MAX International Inc.
6022 Farcenda Place
Melbourne , FL 32940
---
Find out what Twice the Excellence truly means! Contact us today to learn how the Coastal Estate Team can provide you with superior service. We love real estate - and it shows!
Get to know Coastal Estate Team
To thrive in Florida's luxury/coastal real estate market, it pays to be imbedded in the community, love the lifestyle and understand every aspect of the process. That's Bridget and Carolyn's recipe for success.
One day they're looking at a new home from the buyer's viewpoint, and the next day they're seeing the world through the seller's lens. Bridget and Carolyn have spent the last 15 years viewing the industry from both sides of the equation. Their experience as designers, custom homebuilders and community sales partners are assets you want behind you. Independently, they have built, bought, designed and closed tens of millions of dollars worth of beachside, oceanfront, waterfront and high-end luxury dwellings. Together, they are raising the bar on enthusiasm, success and customer satisfaction.
It's rare to find two people under the same roof who feed off each other with such genuine respect. The synergy of their minds and commitment to their customers keeps the buying/selling process on a smooth track right up to closing. Once you've made the decision to work with them, it's truly comforting to rely on people who can help you avoid the hiccups and delays that are so often part of the process.
Your first step is to sit down with Bridget and Carolyn so they can get to know you, your family, and your every day wants and needs. You can lean on them for everything from price point to paperwork concerns to interior design. Take a look at their bios and then put these two seasoned professionals on your lifelong real estate team.  Whether you're listing your home or planting your roots in the community, Bridget and Carolyn are two people you will absolutely enjoy working with.
About Carolyn Smith:
Carolyn grew up on the beaches and barrier islands of South Brevard County and lived the dream early. She understands full well why people want to move here and plant roots forever.  After achieving her B.S. in Finance from the University of South Florida she did what Finance graduates do and trekked successfully up the corporate ladder…but knew inside she wasn't following her heart.
So, Carolyn and a partner started a custom home building company in South Florida and for 15 years, learned about the wants and needs of luxury homebuyers and how to work with contractors, mortgage companies and the rest of the human tapestry in the Real Estate industry. But, the final piece missing in the equation was that she still didn't live in Brevard County.
So after the birth of her children, she and her husband decided to move back to Brevard permanently – so her children could grow up in the same wholesome, healthy, outdoorsy environment in which she grew up. The commitment was real because she moved back here during the absolute worst Real Estate market in county history – the crash of 2008. But, the best perform when they need to most and she prospered and became one of the top Real Estate Producers in the area. Carolyn attributes her success during that time to her sincere passion for matching people with the properties they will call home; her meticulous attention to detail and thorough understanding of the complexities involved in the process – all synergized by her love and respect for the communities in which she serves.
Whether you are buying or selling, like Bridget her partner, you will have in Carolyn, a person who will listen to you, put your needs first, and work tirelessly, ethically and aggressively on your behalf. Just call the Coastal Estate Team and you're already on the right track.
About Bridget Sentz:
After growing up in the small town of West Islip on the South Shore of Long Island in New York, Bridget continued her education, graduating with a B.S. in Business Administration from the University of Rhode Island.  She then headed to Wall Street, obtaining her Series 7 and Blue-Sky licenses.  She worked on Wall Street for several years in sales, focusing on mortgage backed securities in the secondary market.
Bridget left Wall Street behind in 1987 after her husband was transferred to Florida by his employer, Northrop Grumman.  Since that time, she and her husband have called Satellite Beach home, enjoying waterfront living on the weekends and outdoor Florida sunshine all year around.
Whether working with buyers or sellers, Bridget's 10 years of "new construction" sales experience, combined with her knowledge of the local market and the communities within, allows her to fully guide her clients in the right direction based upon their needs.  Completely dedicated to providing exceptional customer service, Bridget's specialty, like her partner Carolyn,  is listening to what her customers really want and ensuring they get it.  As her clients' greatest advocate, she always keeps their interests top of mind.  Bridget also excels at the negotiating table, navigating even the most challenging situations with grace and ease.
Bridget's attention to detail and follow up will ensure that you always feel confident and knowledgeable throughout the entire real estate process. Bridget embodies what it means to love what you do and understands that her clients' happiness is what brings about the best relationships as well as repeat business in the future.  Whether you are looking to buy or sell and want first class service, just call the Coastal Estate Team and you're already on the right track.
Coastal Estate Team's Blog Posts
Real Estate General Information
–

over 6 years ago
Real Estate General Information
–

about 7 years ago
Real Estate General Information
–

about 7 years ago
Real Estate General Information
–

about 7 years ago
Testimonials for Coastal Estate Team
Kim E. and Andreas G. Client, Buyer

05/05/2014

"I can't say enough great things about everyone that is part of the Coastal Estate Team!! We were relocating from North Carolina to Melbourne and didn't know anything about the city. We weren't sure when we were going to buy since we still had a house in NC but Carolyn still took the time to drive us around all the parts to find out what we liked since Melbourne is so vast. When we were ready to buy the process was a breeze - Carolyn hand selected each property and we ended up with EXACTLY what we wanted and within out budget! She even noticed right before our closing that something was wrong on our HUD and had it fixed - saving us thousands of dollars. Carolyn is extremely detailed, very responsive and by far the best realtor I've ever worked with. When she had a prior engagement once my husband was able to meet with her partner, Bridget, who he said was just as great. We also worked with Jen, who works from the office and she was wonderful and very responsive as well. My husband and I highly recommend the Coastal Estate Team!"

Nicholas G. Client, Buyer

01/06/2014

"I NEVER WRITE REVIEWS so take this one seriously! As a first time home buyer I was not sure what I was getting into. I originally chose a realtor who was a family friend and that ended in a mess. One of the worst experiences of my life. I could not understand how people buy houses with all the stress involved. I was ready to give up and just rent, thats when I met Bridget Sentz. When I met Bridget Sentz I was hesitant about looking for a house again after all the headaches and stress I underwent. I told Bridget about my experience and she assured me things would be different. I told her what my style, price range, and desired square footage was and right away she went to work. It took maybe a week before I found "THE HOUSE". The second I walked in I knew it was the right one. I was NOT shown thousands of houses that I hated. My time was valued and not wasted. When walking into a house I wasn't fond of she knew my thoughts immediately and did not attempt to guilt me into a purchase as some realtors do. Once the house was found she went to work for me again. My house was listed at 275k I bought it for 248k. Enough said, negotiation skills impeccable! Her team made everything so easy for me that buying a house went from the most stressful experience of my life to one of the happiest, 180 degree change! In my line of work when you do something you have to do it right the first time or the consequences are unimaginable. A house is a life long investment. If you are going to buy one do it right and get the best, Bridget Sentz. If your experience is half as good as mine was you will be happy with your choice. Good luck!"

Dallas and Heidi L. Client, Seller

11/06/2013

"Carolyn and Bridget handled every aspect of the listing and sale of our home to our complete satisfaction! They were prompt for every face to face meeting from the listing of the property thru the property closing. When my wife, Heidi, or I needed anything they were more than glad to respond. Their advice and guidance were very much appreciated and made us very comfortable with the transaction.
Jen Conrad, their office coordinator/assistant, was also helpful to us. We were always kept informed about the status of all aspects of the transaction. Every showing of the property was scheduled in advance and took place as scheduled.
If we made a request for assistance for repair items we wanted to have accomplished, they were prompt in contacting the applicable company and having it handled immediately."

David and Tyann F. Client, Buyer

09/13/2013

"Working with Carolyn and Bridget was like working with family. They worked day and night to find the exact right home for us. They listened to our wants and tailored our home visits to our exact specifications. We felt that we could contact them on any day or at any hour with any type of questions, and we always got answers without delay. They even provided help for us to find every type of assistance we needed during our relocation. They even were a step ahead of us on some issues and sent information before we asked for it. You can NOT go wrong working with these two ladies. Our transactions were flawless."

Janice D. Client, Buyer

09/09/2013

"These two women listen to what you are looking for and they go out and find you EXACTLY what you want! They are great for buyers who are out of town. Very helpful getting information to you in a timely manner. Work with title agency to ensure that all paperwork is filed correctly."

Frank W. Client, Buyer

09/03/2013

"Carolyn, Bridget and Jen were the best. Their patience in helping me find a home was only out done by their professionalism and knowledge. They explained the different areas I was looking in, assisted in financing, and even recommended home inspectors and handymen to get my townhouse looking great. They made everything I needed to do very simple. These 3 are a great team and you would be remiss if you didn't contact them if interested in the Indialantic area. They were simply fantastic."


Leslie M. Client, Buyer:

08/20/2013

"Amazing experience with Bridget, Carolyn, and Jen. I would highly recommend them for their attention to detail and ability to get it done! They helped us to get our dream home and we couldn't be happier."

D. Wood Client, Buyer:

08/07/2013

"We have bought and sold several homes in FL during our 30 yrs of marriage, and how I wish we had found Carolyn Smith and her team sooner. They are not only knowledgable and hard-working, but also kind. Everyone on the team went out of their way to do anything necessary to make our experience easier and better. The service provided was above and beyond my expectations. Response time for any information was always minutes, not hours or days like some agents we have worked with in the past. These are full time professionals who work FOR you every hour of the day and night if necessary. There was a home we were interested in that came back on the market after we had given up on it and Carolyn emailed us at 7:30 am on EASTER Sunday !!! Where do you find service like that? Anyone looking for an agent in their service area can stop looking."

Tom M. Client, Buyer:

07/22/2013

"Carolyn Smith helped my son purchase the house that we are living in now. The time frame on this deal was very tight to get financing set up and to negotiate the winning bid for the house against 5 other bidders. It was so good that one month later one of the other bidders offered a 10% over the selling price to resale to them. Carolyn and Bridget are a great team and very professional in all that they do."

D. Roman Client, Buyer:

07/22/2013

"Carolyn and Bridget were amazing! Super knowledgeable and were always there to answer our questions. There was never a time we felt alone through our home buying process. They always worked on our behalf and ensured we got the best deal out there! We have and will continue to refer them to friends and family!!!!"
Introducing a fresh new look for your Profile.
Click the 'Edit Profile' button below to enter 'Edit Mode' and continue the tour.