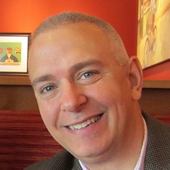 NMLS #76803
Mortgage and Lending
Jeff Chalmers
Branch Manager
Norfolk, MA

—

Ross Mortgage Company (MC2084)
308 West Central Street, Suite D1
Franklin , MA 02038
---
A 25 year industry veteran, Jeff has helped 1,000's of consumers and countless Realtors simply by providing the mortgage industry's Honest, Open and Transparent (H.O.T.) mortgage process.
Get to know Jeff Chalmers
Why Work with Me?
A nationally renowned and tech-savvy mortgage expert, Jeff is famous for his H.O.T. (tm) loan process - Honest, Open and Transparent - a laser-focused approach to enhancing the consumer mortgage experience. A 25 year industry veteran, Jeff is committed to making the "Latte Vision" a reality for today's consumers. In fact, embracing this vision, he has closed more than 15,000 loans by infusing cloud-based technology with old-fashioned,customer service.

Regarded among the 100 Most Influential People in Real Estate, Jeff is not your typical loan officer. In fact, he is not only an NAR presenter and trainer, but also speaks at various national brokerages and serves as a national finance and technology columnist for some of the industry's leading publications on hot topics such as paperless, eSigning, mobile strategy, branding, content development and social media. Moreover, he is a national Ambassador for Inman News and was the only mortgage professional chosen for Inman's highly popular Real Estate Connect to represent both in New York City and San Francisco.

Outside of the industry, Jeff is an active member of his community where he serves simultaneously on the Norfolk and King Philip Regional High School Committees. He is also a dedicated member of the Norfolk Zoning Board of Appeals. A lifelong volunteer, he also assists the Norfolk Food Pantry, Special Olympics, Pine Street Inn, ACS and ALS organizations and coaches for the local youth football, baseball and soccer programs.
Real Value with Jeff Chalmers
Today's home appraisals are no longer fast, easy or inexpensive, but this video will show how choosing the right professional can save you time, money and piece of mind.
Testimonials for Jeff Chalmers
Kiley (Bellingham, MA)

11/04/2013

"My wife and I worked with Jeff for the first time 2 years ago. We were buying our first home and were referred to him by our real estate agent. As first time home buyers we had no idea how any of the process worked. Jeff spent countless hours on the phone with us and even stopped by our house to go over every line of the application to give us more piece of mind.

Fast forward 2 years, the rates keep getting lower and we decided it was worth trying to refinance. We spoke to another mortgage person first, and soon realized that Jeff was on another level in terms of service and attentiveness. So we decided to give Jeff a call. On top of getting us a better rate than the other mortgage person, his fees were better, and his attention to detail was truly remarkable. Give Jeff 10 minutes on the phone and a chance to look at your numbers and you won't even consider using another mortgage person. I highly recommend Jeff to anyone who is looking to get a new mortgage or refinance their existing mortgage."

Daniel (Braintree, MA)

11/01/2013

"My wife and I are extremely satisfied with the refinancing package that was put together by Jeff. His customer service is second to none that we have encountered in twenty years of home ownership. Jeff responded almost immediately to all questions and concerns and was always able to simplify the sometimes confusing mortgage process. The entire process from application to closing took just about two weeks. We were updated daily on the status of our application. Jeff was able to get us a terrific rate and the fees were the lowest we've seen in the industry. We highly recommend Jeff for your mortgage needs!"

Mark (Newton, MA)

11/01/2013

"Working with Jeff was a REAL pleasure. As a busy college professor, time is not always a luxury. However, not only did he ALWAYS make himself available, but he also made the whole process SEEMLESS and SIMPLE. When I first started, I was quite amazed by how low our rate and fees were so I did my own research. After some serious due diligence, he won out head and shoulders above the rest and complimented a great rate and low fees with terrific old-fashioned customer service. For example, the lender's underwriters took longer than usual and we were afraid that we would lose our rate and with rates then in the high x's and x's I thought we were doomed. Not only did he get everything done as promised, but he also got us a rate BELOW x.00% without ANY additional costs to us AFTER our rate lock had expired. I was so impressed by his professionalism, honesty and courtesy that I have already referred him to friends, neighbors and colleagues and would use him again whenever I decide to refinance or buy again. Thanks!!"

Reinhold (Bolton, MA)

11/01/2013

"He lived-up to all my expectations. Jeff returned every call or email almost immediately, regardless of time-of-day. When I had questions he took the time to explain the process and even followed-up after every interaction. The process of applying and registering documents and information on the website was very fast and painless. And, most importantly, Jeff was able to provide me with the absolute lowest cost loan at the lowest rate - and that's after applying with at least three other on-line brokers and with a local loan officer. We closed in 3 weeks from first contact, and it was the easiest and most pleasant refi that I've ever done. I was a bit skeptical when quoted the best rate with the lowest fees, but that's exactly what I got. I recommend Jeff without reservation."

Eliot (Reading, MA)

11/01/2013

"Jeffrey was great to work with in assisting us refinancing our home. The process went very well even with a couple setbacks like the appraisal and PMI. His online system, attention to detail, and outstanding commitment to service make Jeffrey a level above every other lender I have ever worked with. Jeffrey worked to get us the best rate available, and he beat every other estimate we got both online and from local banks. He also makes sure that his estimates stay on point all the way through closing. I've already recommended him to my family and I recommend him to everyone out there reading this. You won't find a more trustworthy lender. If every lender was like Jeffrey, our economy would be in a better place."

Fred (Needham, MA)

11/01/2013

"Jeff did a great job for us. We were extremely happy with the level of service, the rate and loved his interactive website. With the new focus on lenders to having every "i" dotted and every "t" crossed twice you need a person like Jeff tracking every document involved from start to finish. We called our old mortgage person, but after a week called Jeff. We already had our rate locked by the time our old mortgage person returned our call. I guess I will have to refer to the old mortgage guy as our ex-mortgage guy. Jeff also helped us with our vacation home as well and got us the same rate as our primary residence. With Jeff, you'll never want to use anyone else."

Metin (Waltham, MA)

11/01/2013

"I just closed a refinance loan with Jeff's help at a great rate. He was quite impressive in various dimensions. First, he keeps his word and promises no matter what. Second, he spends time with you to help, and always makes himself available. He was very responsive anytime during the day and evening. Third, there were no big surprises: I was always kept updated about the status of my application and necessary documentation through daily emails and a great electronic interface where I could view or upload needed documents. He was very knowledgeable, and always very reassuring. Finally, he was very pleasant to talk to and work with. Although there were some minor wrinkles to go through during the closing process, he responded immediately to straighten out my concerns. So, I have been quite happy about the whole process and have been recommending him to all my friends."

Sandra (W. Newton, MA)

11/01/2013

"My husband and I used Jeff when purchasing our home and were so impressed that we are currently working with him on our refinance. We originally shopped around at commercial banks and finance companies, but found that his service was a cut above. Specifically, he took a personal interest in ensuring that our client experience was second to none by providing industry-leading expertise, a vast network of professional services (Realtors, attorneys, etc.), an easy-to-use, secure web service, great follow-up, and the tireless pursuit to answer any and all questions, no matter how simple or complex. Our refinance was complex due to the current economic climate, strict lender regulations, and two mortgages. He worked tirelessly to ensure that although the transaction is complex, we are shielded from the "madness" for which we are truly grateful. He came to us as a recommendation from other satisfied clients who are friends of ours and it was the best decision we made as it continues to pay dividends."

Edward (Newton, MA)

11/01/2013

"Jeff assisted my wife and I with our first home purchase. Although, I was new to the home buying process, his exceptional industry knowledge, cutting-edge web systems, professionalism, and willingness to go "above and beyond"
to ensure a comfortable experience won my wife and I over. In addition, we obtained the lowest rate available....anywhere! The fees were also the lowest we could find after extensive research. I have already recommended many people who have asked for the service he provides. I am still quite amazed with his responsiveness, honesty, and pleasant nature. Needless to say, I am a very satisfied client and will be working with him on our refinance!"

Todd (Arlington, MA)

11/01/2013

"Awesome to deal with. Held our hand through the process and was positive and forthcoming. After having a not so great previous experience with a different broker in the past, Jeff was hugely patient with our trepidation. He gave us
lots of information that was always right there in the open. He restored our faith in brokers. He was present and accessible. I've bought two houses in the past, refinancing one of them along the way over the past 10 years. I worked with Jeff only on the last one. I can say that, without a doubt, Jeff's was not only the best deal I've come across, but the best service, attitude and process. In a past refinance, I had a pretty typical "bait and switch" experience with another broker that left me wary, but Jeff was patient, clear and straight forward. He shopped around and found me a great rate and went to bat for me when a small issue or two came up from the lender's side, smoothing the way. I can't imagine using anyone else."
Introducing a fresh new look for your Profile.
Click the 'Edit Profile' button below to enter 'Edit Mode' and continue the tour.