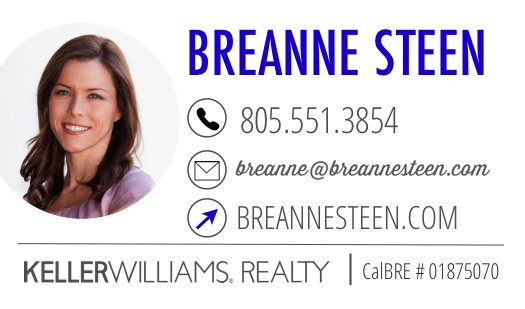 Get to Know Breanne Steen
COMMITTED to your real estate goals!
- Top Producing Realtor serving buyers and sellers in Ventura County
Awards & Recognition:
     - Received top honor as Double Centurion producer
       (Less than 1% of agents receive this top recognition nationwide.)
     - Received honor as Centurion producer
       (Top 10% nationwide)
Education and Professional Affiliations:
     - Attended California Lutheran University and graduated with honors from California State  
       University Northridge & Sacramento.
     - Members of the National Association of Realtors, Conejo Valley Simi Moorpark Board of
       Realtors, Ventura County Regional Data Share MLS, and CARETS CA Statewide Multiple
       Listing Service.
     - Members of the Keller Williams national and international referral network, servicing
       relocation and referral clients from all over the world.
     - Enrolled in continuous education, training, and coaching on a weekly basis, investing over  
       thousands per year to enhance our skills and better serve the needs of our clients.
Awards
100% Club
Double Centurion Award
Skills
Top Producing Listing Agent
Experienced Buyers Agent
Extensive experience with Short Sales
Master Negotiator
Jenna Merrill
11/01/2014
Breanne was super knowledgable and helpful when it came to selling our house. She was able to get us a full price offer in less than a couple weeks. She was very responsive when it came to questions we had and worked around our crazy schedules to get the job done. Breanne works hard and is always available for her clients.
Rick Wallace
09/01/2014
Breanne was our buying agent and she did a terrific job. Very attentive to our unique needs, represented our interest well to the sellers and did a great job negotiating with a challenging seller agent. Breanne is very detailed with all aspects of the transaction, and the paperless processing was fantastic, and very efficient. Breanne is a real professional, very patient with all aspects of a deal and had some very good recommendations and resources to make the transaction smooth and seamless. Highly recommend Breanne.
Kyle Trousdale
08/31/2014
Breanne is everything we needed in a real estate agent. She is personable, professional, astute, conscientiousness, detail-oriented, dedicated....and more. She was consistently candid and transparent, and took every opportunity to keep us informed of every aspect of listing and selling our home. It was not surprising how often she anticipated our questions and concerns, and troubleshooted issues with buyers and their agents, contractors and escrow representatives. Her responsiveness was impressive...if unable to answer a call, Breanne would immediately text or email so that we knew she received our message. Her guidance for preparing our home to sell, listing price, negotiation strategies, and managing contingencies was always reasonable and to our advantage. She was extremely helpful to quickly refer and coordinate requested resources for dealing with home inspection action items. Breanne's efforts enabled us to receive a offer for our asking price from a qualified buyer within a week of listing, and thanks to her, we closed escrow on the exact date that we had planned.
Scott and Denise Bart
06/25/2014
You did a very good job for us. You were our rock when we felt the stress of all the bumps in the road. You always got us honest answers right away and were available in a timely manner. I would highly recommend you and your team to family and friends.
Susan & Joe Laschi
06/02/2014
We happily recommend Breanne Steen to anyone considering buying or selling a home.  She is an excellent realtor; hard working, professional, honest, easy to work with, and well versed in all aspects real estate.  Breanne makes sure that each client is given exceptional service and she never hesitates to go the extra mile.  Being represented by Breanne and her team has made buying and selling a house a less stressful and very smooth experience.
Alex Bagley
03/03/2014
I had asked Breanne to take over our listing after three months with a well know agent. Breanne came with her team took professional photos and was very knowledgable about the process. How she and her team worked was amazing resulting in a sale. She is always reaching out to us and I would love to say we have a realtor for LIFE!
Jake Smiley
02/18/2013
Breanne made herself very available to me. I was with another realtor for 5 months before Breanne was recommended to me. I was with Breanne for 3 days before getting the results I wanted. She communicated with me throughout the whole process and she is very knowledgeable. I recommend Breanne to anyone in the market. She made my sales experience enjoyable and stress free.
Eric and Megan Sterkel
06/15/2010
It was so wonderful working with Breanne! She communicated throughout the entire process and she was always available via email or phone. She even continued to make herself available to us even after we closed. She has a way of making even the most stressful situation more tolerable and work very hard to make sure the transaction goes as smoothly as possible. She had so much patience with us (even with all of our crazy questions!). We know she sincerely cares for her clients' best interest.
Jarrod Langford
06/01/2010
Breanne is very informative, understanding, & willing to go the extra mile.
format_quote
COMMITTED to your real estate goals! Top Producing Realtor serving sellers and buyers in Ventura County.