Real Estate Product Reviews on ActiveRain
Here's where you'll find a community willing to share their experiences with everything from computers to coaches and from contact management software to virtual assistants. If there's a real estate-related product or service, we'll have reviews for it.
Consider this patch of ActiveRain real estate your water cooler. Gather around it and talk to you colleagues – get and offer advice. We hope this will be a forum for both teaching others about what you know and for learning from the rest of the ActiveRain community.
What products or services work for you? Don't be shy -- we'd love to hear all about them and spread the word to help all ActiveRainers move on to the next level in their businesses.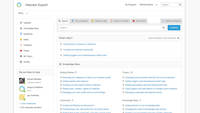 Product Reviews for
Helprace
Helprace Overview
(
Helprace is a set of easy-to-use customer service tools that improve customer-company relationships in the real estate industry.

Helprace consists of a feedback system, community, a knowledge base and a help desk all centered around your real estate company. Companies can: 1) priorotize ideas, questions and praise (and act on them), 2) provide instant answers using Helprace search and self-service 3) solve every customer issue using a simple help desk ticketing system.

In addition, you can customize every module of your Helprace to offer a complete customer service solution in line with your business goals.
Subscribe
Submit a Review
Helprace Reviews

Scottsdale, AZ
Real Estate Agent
Submitted on 09/11/2016
Whether using Helprace - or another solution / marketing medium - if it involves photos - Profession...
more
This review has not yet been rated