Real Estate Product Reviews on ActiveRain
Here's where you'll find a community willing to share their experiences with everything from computers to coaches and from contact management software to virtual assistants. If there's a real estate-related product or service, we'll have reviews for it.
Consider this patch of ActiveRain real estate your water cooler. Gather around it and talk to you colleagues – get and offer advice. We hope this will be a forum for both teaching others about what you know and for learning from the rest of the ActiveRain community.
What products or services work for you? Don't be shy -- we'd love to hear all about them and spread the word to help all ActiveRainers move on to the next level in their businesses.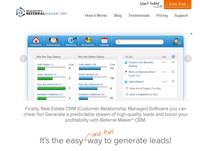 Product Reviews for
Referral Maker CRM
Referral Maker CRM Overview
(
Try it for 30 days free! $49.00 per month or included with different levels of coaching.
Love how this connects with Facebook, my calendar & helps me track my activities, business and goals. It's a one stop shop for business planning, marketing, appointments and Relationship Management. And yes...there's an APP for that!
Subscribe
Submit a Review
Referral Maker CRM Reviews

Scottsdale, AZ
Real Estate Agent
Submitted on 01/20/2018
Referral Maker CRM from Buffini and Company is just one more example of what this company provides t...
more
This review has not yet been rated

Andover, MA
Real Estate Agent
Submitted on 09/06/2016
I used to wonder if there is a complete product that can help me in my business for everything? A...
more
100.00 % thought this review was helpful

Big Bear Lake, CA
Real Estate Agent
Submitted on 12/25/2015
Referral Maker CRM is business by referral system. It is one of the best CRM's that I have come acr...
more
100.00 % thought this review was helpful