MOO.COM Business Cards, MiniCards, Postcards, Stickers and more! Overview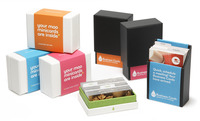 | | |
| --- | --- |
| | star star star star star_half |
| Average Rating: | 4.64/5 (22 votes cast) |
| Company: | MOO.COM |
| Address: | 985 Waterman Ave , East Providence , RI 02914 |
| Website: | www.moo.com |
| Email: | rebeka@moo.com |
| Contact Name: | Rebeka Fluet |
| Category: | Sales & Marketing |
| Subcategory | Print |
We help our customers print things like Business Cards, Postcards and MiniCards, making it easy for them to share information about themselves or their business in the real world.

Print is simple and wonderful. We love it.

We're a new kind of online printing business. MOO was born out of a love of beautiful, high-quality print.

Printing has been around for centuries, and we're certainly not the first printer on the web. But, whilst many other printers have chosen to use new technologies to simply reduce the costs of printing (and often the quality), we strive to make print not only cost-effective but better than ever before.

We want to set a new standard for print, with remarkable new products that bring great design and uncompromising, high standards to the web. We're only young, but when we grow up we want to be the best printer on the internet.

We believe in the power of great design and design is key to everything MOO does.

Design helps us stand out: from the clothes we wear, to the homes we live in, to the business cards we use. Design tells a story about us and what we stand for.

But professional-quality design has traditionally been expensive or out of reach for most people; we want to change this. We're passionate about helping people of all abilities design the best looking and highest quality print products: products that will help them or their business look great.

Our company vision is simple but ambitious: "great design for everyone".
Mooing all the Way

Real Estate Agent
star
star
star
star
star
North Kingstown, RI
Reviews(1) 0.00 % Positive Feedback
Submitted on 11/15/2012
Received my first order of Moo.com business cards that are great pass out cards with the waterfront ...
more
This review has not yet been rated
I'm over the moo-n for Moo.com
Real Estate Broker/Owner
star
star
star
star
star
Camas, WA
Reviews(1) 0.00 % Positive Feedback
Submitted on 11/07/2012
I've used Moo.com for my regular business cards for several years and recently added mini-moo cards ...
more
This review has not yet been rated