Edwin Zetino's (edwinzetino) Blog
RECENT BLOG POSTS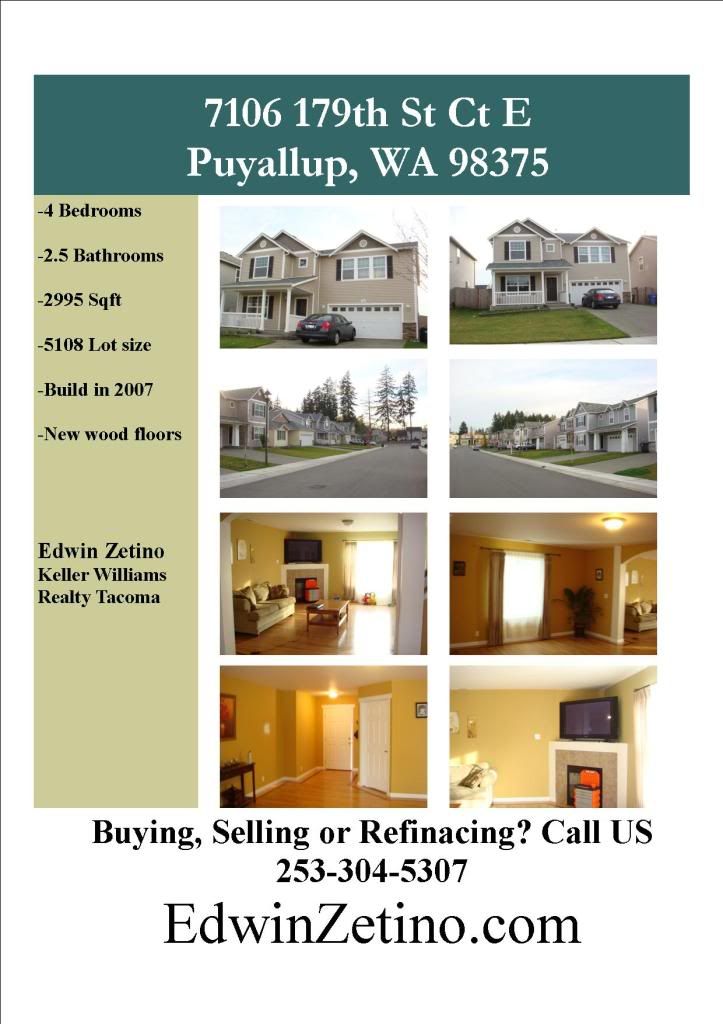 Tacoma and local cities market update 10/24/2008 ( EdwinZetino.com )  This update is an example of how important it is to be priced correctly to become part of the number of homes that are being sold. Today the NWMLS reported 150 sold properties in the local area of Tacoma and Pierce County. Th...
Please view:   http://video.google.com/videoplay?docid=2961136074832015378   Don't hesitate to call. Pierce county, Washington real estate/ Tacoma area real estate The Rock Solid Team - Edwin Zetino
With the overwhelming media constantly attacking the real estate market it has become stressful for seller and buyers to make a comfortable decision. Buyer have great amount of choices leaving many homes on the market without a chance to be seen. Tacoma real estate has become a pool of great deal...
Getting your home sold begins with preparing it and staging it to become attractive to buyers. Another important factor to making your home attractive is curve appeal which begins the comment your client sets foot of their car or simply drives by your home. 80 percent of home buyers begin there s...
Edwin Zetino, Pierce county real estate Today's market is without a doubt alot tougher then we are all used to compared to the previous years. Keeping your house on the market  with a high price can cost you time and money. The longer your property stays on the market the less attractive it becom...
With all the uncertainty in the Media about the housing market, many homeowners are hesitant to spend money on improvements. But with contractors so eager to keep their work flow and willing to bargain their rates, it may be the best time to consider that home improvement your been thinking about...
Downtown Tacoma has a world of great places to discover. Begin your search with a tour of majestic beauty. The Down town streets are filled with a variate of restaurants and unique gift shops. Downtown Tacoma is conveniently located in the commencement bay and with a great view of Rainier and sur...
Steilacoom lake.WA can be found in the great suburban city of Lakewood minutes from Tacoma. Steilacoom Lake remains as one of the safest and cleanest waterfront locations in the Tacoma area. From it's amazing floral & wild life to it's luxurious waterfront properties, it is without a doubt one of...